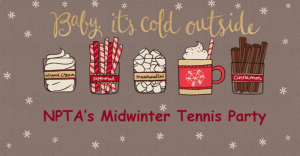 Friendly tennis, food, and drink!
Saturday, January 26, 6:00 PM to 9:00 PM
Strand Tennis Center, 40 Watchung Avenue, Chatham, NJ 07928
FREE for the current and new members, $20 for non members
Bring a dish or your favorite drink to share
Registration is now open for the Fall Leagues (men, womens 3.5 & 3.0, mixed).   Play begins the week of  Sept 10.  Additional information is found here.  Please register by  Sept 8 to allow time for scheduling.
Court Assignments
Monday:         7 –   9 PM          Women's Doubles           Courts 1 – 3
Monday:         8 – 10 PM          Men's Doubles                Courts 5 – 8
Wednesday:   7  –  9 PM          Women's Doubles          Courts 3 – 7
Thursday:       7  –  9 PM          Mixed Doubles                Courts 1 – 4
Saturday:        8 – 11 AM          Round Robin                  Courts 5 – 8
Sunday:          9 – 10 AM          Clinic                               Courts 1 – 2